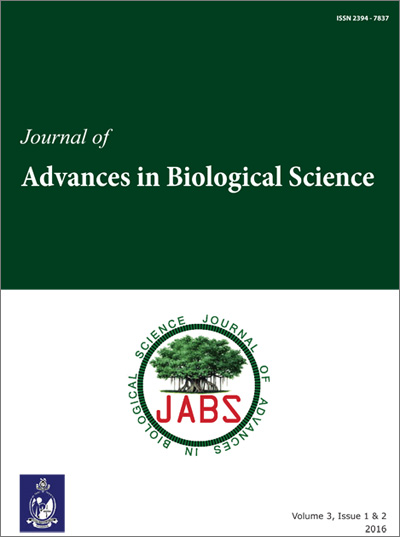 Journal of Advances in Biological Science is sponsored by the Post Graduate Department and Research Center of Botany, Mahatma Gandhi College, Thiruvananthapuram, Kerala, India and is in print version for articles on all aspects of Biological Science
Read More
---
Journal of Advances in Biological Science is sponsored by the Post Graduate Department and ResearchCenter of Botany, Mahatma Gandhi College, Thiruvananthapuram, Kerala, India and is in print version for articles on all aspects of Biological Science.


---
JABS - 2018 Volume 5; Issue 2
---
In vitro Cloning and Genetic Uniformity Assessment of the Microclones of Baliospermum Montanum (Willd.) Muell. Arg.: A Ret Medicinal Species.
Parvathi, K.P., Preetha, T.S. and Hemanthkumar, A.S
Read Full Text
Morphological and Biochemical Comparison of three species of Sida, Sida cordifolia L., Sida acuta Burm.F. and Sida Rhombifolia L.
Sushama Raj, R. V.,Varughese, P. M.,Rajeswari, L., Aswathy, V. Nair
Read Full Text
A Study on the Effect of Dietary Fibre on Gastro-Intestinal Motility in Rats.
Bijukumar, B.S
Read Full Text
In Silico Prediction in Binding Affinity of Compounds Isolated from Sargassum wightii with Tau Protein Associated with Alzheimer's Disease.
Sreeja Krishnan, Suveena, S., Haritha, K. Balan
Read Full Text
A Study of Antibacterial Activity of the Crude Extracts of Synedrella nodiflora.
Lekshmi, G.M., Aswathy, S.S., Harikrishnan, K.P., Haritha Krishnan, Krishnendu, M., Vishnumaya, A.S.
Read Full Text
The Effect of Light, Darkness and Salinity on Seed germination of Vinga radiata (L.) R. Wilczek.
Sreeja Thankappan, Sufin, S.S., Vinod, V., Aswathy, A. and Greeshma Mohan
Read Full Text
Proximal and Mineral Composition of the Leaves of Hyptis capitata Jacq. Lamiacea.
Sumitha, V., Murugan, K. and Mini, I.
Read Full Text
Insecticidal effects of selected plant extracts on the neuroendocrine system of the red cotton bug Dysdercus cingulatus Fabr. (Heteroptera: Pyrrhocoridae).
Premeela, M.
Read Full Text
Physico-Chemical Characteristics and the Distribution of Algae of Meenpidippara, Kottarakkara.
Lekshmi G.M., Sibin Babu, Abhila P S, Anila R, Anjali A S, Anjali Krishna K S, Chithra T, Jyothilekshmi S R, Rabitha Krishnan, Rosy Baby, Shalu Kumari K, Suja Sajeev
Read Full Text
Importance of Ayurveda in Sports Medicine: A Review
Geetha, S. and Sushama Raj, R. V
Read Full Text