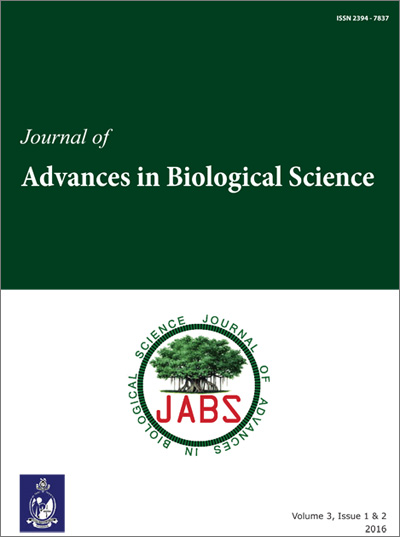 Journal of Advances in Biological Science is sponsored by the Post Graduate Department and Research Center of Botany, Mahatma Gandhi College, Thiruvananthapuram, Kerala, India and is in print version for articles on all aspects of Biological Science
Read More
---
Journal of Advances in Biological Science is sponsored by the Post Graduate Department and ResearchCenter of Botany, Mahatma Gandhi College, Thiruvananthapuram, Kerala, India and is in print version for articles on all aspects of Biological Science.


---
JABS - 2016 Volume 3; Issue 1 & 2
---
An Evaluation of Aquatic Macroinvertebrate Diversity of River Achankovil, Kerala -
Balamurali, R.S. and Nandakumar, S.
Read Full Text
Relation between Flower Colour and Pollen Size Polymorphism in Accessions of Hibiscus Rosa-Sinensis L. -
Devipriya, V.
Read Full Text
Preliminary Phytochemical Screening of Vitex negundo, Linn. -
Sushama Raj, R.V. and Rajeswari, L.
Read Full Text
Variation in Density and Moisture content in Bamboo culms, Bambusa vulgaris var. striata (Lodd. ex Lindl.) before and after the sprouting in vegetative propagation -
Sreeja Devi, P.S., Jijymol, K.K., Neethu, S. Kumar, Santhoshkumar, R. and Raveendran, P.B.
Read Full Text
Monitoring pollution using diversity indices, density and biomass of tree species from Kavil Shree Maheswarashramam (Sacred grove) from Nedumangad, Thiruvananthapuram. -
Jaseela F, Nisha, S.A., Jaishanker, R., Sooraj, N.P. and Saroj Kumar,V.
Read Full Text
Phytochemical Screening and Evaluation of Antioxidant Activity of Sacred plant Cynodondactylon (Linn.) Pers.: Karuka (God: Lord Surya) in the context of Western Ghats Biodiversity -
Kaladevi, V., Preetha, S.S., Rincy Ashraf and Chanchu V. T.
Read Full Text
Analysis of The Water Quality of a Dam in Thiruvananthapuram District, Kerala -
Shibu Krishnan, K. and Ajit Kumar, K.G.
Read Full Text
Histopathological Study of Grey mullet (Mugil cephalus: Linn.) in Veli Lake - S. Vijayakumar, Deepika, A.D., Nived, V.S.
Read Full Text
Anthropogenic impact and Urbanization on Avifauna from a populated Residential area in Ottapalam, Kerala. -
Gayathri Elayidam U
Read Full Text
Studies on the common Green Seaweeds of the Thirumullavaram Coast of Kollam District, Kerala, India -
P. Ampili and Parvathy, S. Nair
Read Full Text
Fresh Water Algal Biodiversity in Aruvikkara Reservoir - Chanchu, V. T. ,Sobha, V., Preetha, S. S.
Read Full Text
Economic and Medicinal Aspects of Salacia L. (Celastraceae) -
Devipriya, M.S., Prabhakaran Anil & Devipriya, V.
Read Full Text
Review on Single Technology for Heavy Metal Remediation -
Divya. K.R.
Read Full Text
Validation of Memecylonkurichiarense (Melastomataceae) -
R. Sivu, Aswathi, P. and E. S. Santhosh Kumar
Read Full Text