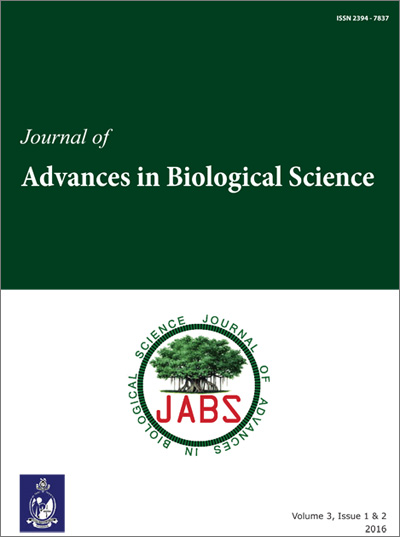 Journal of Advances in Biological Science is sponsored by the Post Graduate Department and Research Center of Botany, Mahatma Gandhi College, Thiruvananthapuram, Kerala, India and is in print version for articles on all aspects of Biological Science
Read More
---
Journal of Advances in Biological Science is sponsored by the Post Graduate Department and ResearchCenter of Botany, Mahatma Gandhi College, Thiruvananthapuram, Kerala, India and is in print version for articles on all aspects of Biological Science.


---
JABS - 2015 Volume 2; Issue 1 & 2
---
Molecular Characterization and Assessment of Genetic Similarity Among the Accessions of Geophila repens L. Using RAPD Markers -
V. R. Sumitha, A. Gangaprasad, G. M. Nair
Read Full Text
Effects of Desiccation on Germination and Biochemistry in Seeds of Hydnocarpus alpina Wight, an Endemic Medicinal Tree Species of Southern Western Ghats, India -
Kamarudeen, M., K. P. Babu, G. Jee, C. Anilkumar, A.G. Pandurangan, P N. Krishnan
Read Full Text
Microflora Dynamics of Mullaperiyar Reservoir, Iduki -
R. Jithesh Krishnan
Read Full Text
A study of antibacterial activity of the crude extracts of Biophytum sensitivum -
Lekshmi, G.M., Athiramol, V., Dency Koshy, Reena, R., Soumya Mathew, Steena, S.
Read Full Text
Qualitative Analysis of Phytochemicals in Leaf Extracts of Tree Phyllanthus -
Jaseela F, Ajith, T. G., Bashitha, P. B., Jumanahaseen, N. U. and Nesy, E. A.
Read Full Text
Morphometric Analysis of a Few Species of Caesalpinia -
M. J. Deena, E. Suchithra1, M. Divya, K. Drishya, C. Kavya, P. Shamna, P. Sariga
Read Full Text
Allergic Evaluation of Cynadon dactylon, L. Among Keralites -
Sushama Raj. R. V.
Read Full Text
Allelopathic effect of Quisqualis indica L. Flower Extract on the Germination of Cicer arietinum L. -
Priyanka L. P., Raveendran P. B.
Read Full Text
Effect of Conventional and Organic Agricultural Systems in the Major and Minor Leaf Nutrients of Coconut Palms -
Sheeja Purushothaman, Mathew George.
Read Full Text
Water Quality Assessment of Polachira Wetland in Kerala -
Geethu. G, N. P. Suresh Babu, T. Vasudevan Nair
Read Full Text
Phytochemical Analysis of Sesbania grandiflora (L) Leaf -
Neethu S. Kumar, Dhanyaraj F. S., Santhoshkumar R., Sreekutty J. I., Padma Priya C. K.
Read Full Text
Biodegradation of Feather Waste: A mini review -
Resmi Raj L, V.P. Potty, G.M. Nair
Read Full Text