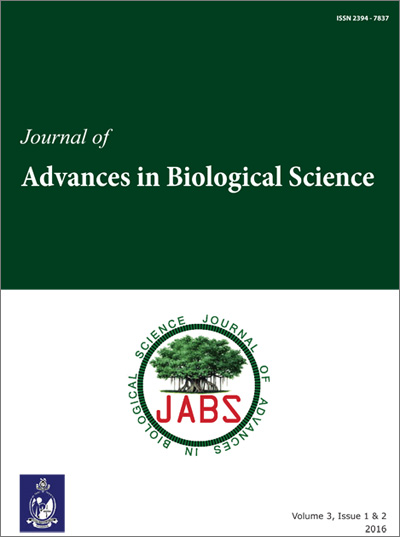 Journal of Advances in Biological Science is sponsored by the Post Graduate Department and Research Center of Botany, Mahatma Gandhi College, Thiruvananthapuram, Kerala, India and is in print version for articles on all aspects of Biological Science
Read More
---
Journal of Advances in Biological Science is sponsored by the Post Graduate Department and ResearchCenter of Botany, Mahatma Gandhi College, Thiruvananthapuram, Kerala, India and is in print version for articles on all aspects of Biological Science.


---
JABS - 2014 Volume 1; Issue 1
---
Palm Pollen Grain Sensitivity in Kerala -
Sushama Raj, R.V. and Prakashkumar, R.
Read Full Text
Morphological Characterisation and Chemical Analysis of Ten Cultivars of IxoraCoccineaLinn. -
Asha, R. Nair and Sumitha, V.R
Read Full Text
Estimation on Financial Viability on Coconut Gardens Using Integrated Nutrient Management -
Sheeja, P., Srinivasan and Mathew, G
Read Full Text
Collection and Conservation of Wild Edible Yams of Western Ghats -
Sreeja Thankappan and K. Abraham
Read Full Text
Survey of Commonly Used Fruits and Vegetables in Thiruvananthapuram District, Kerala Reveals the Occurrence of Mycotoxigenic Fungi -
Anju, M. Nair and Victoria, P.K
Read Full Text
Preliminary Study on the Abundance of Ornamental Fishes along Gulf Of Mannar, South East Coast of India -
Rejitha, B.T. and P. Madhusoodanan Pillai
Read Full Text
Environmental Hazards of Melanoidin - A Major Colourant in the Distillery Spent Wash - A Review -
Neethu, S. Kumar and OldoozAtashparvar
Read Full Text