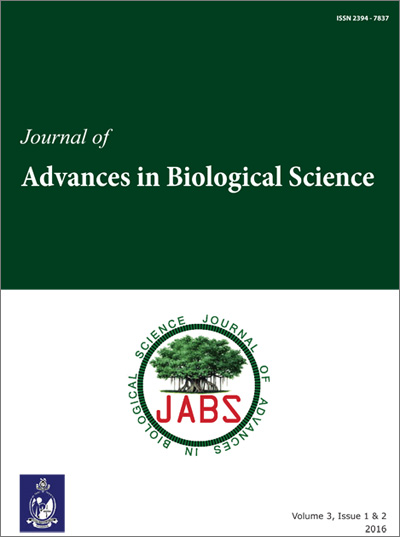 Journal of Advances in Biological Science is sponsored by the Post Graduate Department and Research Center of Botany, Mahatma Gandhi College, Thiruvananthapuram, Kerala, India and is in print version for articles on all aspects of Biological Science
Read More
---
Journal of Advances in Biological Science is sponsored by the Post Graduate Department and ResearchCenter of Botany, Mahatma Gandhi College, Thiruvananthapuram, Kerala, India and is in print version for articles on all aspects of Biological Science.


---
JABS - 2018 Volume 5; Issue 1
---
Hypoglycemic Activity of Natural Product Shilajit on Streptozotocin Induced Diabetic Mice, Mus musculus.
Jasmi. A and Jeeja kumari V.K
Read Full Text
Identification of IgE binding fractions of Oreodoxa regia pollen antigen.
Sushama Raj, R. V. and R. Prakashkumar
Read Full Text
Evaluation of antimicrobial potentiality of a moss-Pogonatum microstomum Schw.
Lubaina, A.S. and Paul Raj, L.S.
Read Full Text
Biosystematics a Modern tool for identification of South Indian Species of Ipomea Lin.
Praveen Dhar, T. and Biju, C.
Read Full Text
Molecular Docking to Elucidate the Binding Affinity of Psoriasin with Antifungal Compounds Isolated from Ulva lactuca Lin.
Sreeja Krishnan, Sangeetha S, Suveena S
Read Full Text
Antimicrobial Effect of Ethyl Acetate Extract and Eluted Fraction of Ethyl Acetate Extract of Chromolaena Odorata with Standard Antibiotics on Different Bacteria.
Sakthi Babu R L, Anjana S Nair
Read Full Text
Evaluation of hypersensitivity due to Peltophorum pterocarpum (DC.) K. Heyne pollen grains using intradermal skin testing.
Sushama Raj, R. V. & R. Prakashkumar
Read Full Text
A study on the Effect of Dietary fiber from Coriandrum sativum in Malathion administered rats.
Bijukumar, B.S
Read Full Text
Tissue culture studies in an important medicinal plant Bacopa monnieri Linn.
Sreeja Thankappan and Sumitha, V. R.
Read Full Text
The Indian Bhant tree - An ecofriendly pesticide against banana pseudostem weevil, Odoiporus longicollis.
Remya Balan, M., Susha Dayanandan
Read Full Text
Epidermal Studies On Ten Members Of Solanaceae.
Sumitha V. R. and Sreeja Thankappan
Read Full Text
Antimicrobial effect of ethyl acetate extract and eluted fraction of ethyl acetate extract of Emilia sonchifolia with standard antibiotics on different bacteria
Sakthi Babu R L, Meenu Krishna S P
Read Full Text